Aelf's Breastplate

Location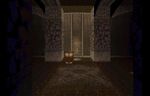 Aelf's Breastplate is one of the Holy Relics, the assortment of equipment belonging to Aelf, last of the noble Falshire Knights. It can be found in the dark room that Adam and Rebecca come through just before going up the stairs to Florentine's Observatory.
According to Aelf, the Cuirass, consisting of boiled leather and plate, "will prove sovereign against both spear and dagger; against the ungodly, it will shield the heart and ward the soul."[1]
"

Adam: This looks like something Aelf would wear.
Rebecca: Perhaps. There is a connection to something. I can't be any clearer than that.

"
"

Adam: Aelf's breastplate, his cuirass. Makes me feel somehow... I'm not sure. I feel ready to take on anything.
Rebecca: Not surprising. The cuirass is inhued [sic, imbued] with Aelf's courage. Part of whatever constitutes his spirit has been passed on to you.

"
References
Edit
Ad blocker interference detected!
Wikia is a free-to-use site that makes money from advertising. We have a modified experience for viewers using ad blockers

Wikia is not accessible if you've made further modifications. Remove the custom ad blocker rule(s) and the page will load as expected.