Dragon Shield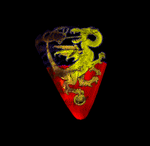 Location
The Dragon Shield can be found on the right side of the fireplace inside the Study. Its main use is to defend yourself against a fire-shooting trap in the

large floor clock room which you come across after opening the Sarcophagus.
"

Adam: Dragon. This is scorched quite badly.
Rebecca: Quite recently too.

"
"

Adam:You mentioned something about heraldry?
Rebecca: Yes, heraldry was initially conceived when knights needed to distinguish themselves from one another in battle.

"
References
Edit
Ad blocker interference detected!
Wikia is a free-to-use site that makes money from advertising. We have a modified experience for viewers using ad blockers

Wikia is not accessible if you've made further modifications. Remove the custom ad blocker rule(s) and the page will load as expected.