Flask of Hot Liquid
Location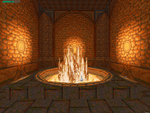 The Flask of Hot Liquid is one of the items that are necessary to solve the riddles surrounding the acquisition of the Key of Tears from inside Raysiel's Tower. It's a ceramic bottle that feels warm to the touch, seeing as it's stashed in a fire spot, and has no obvious smell. After taking the flask, the flames will recede.
The Fire Room containing the ceramic flask is protected by a security mechanism, specifically a moving face on the door inquiring a certain password, which we will learn from a small parchment

that can be retrieved from inside the Library Room.
The hot liquid has to be poured on the floor inside the Ice Room (in order to obtain the Silver Armlet) which would otherwise break and creak under our weight and subsequently wake up Raysiel.
"

Adam: There appears to be something in the middle of these flames.
Rebecca: Looks like a bottle or something.
Adam: It's a ceramic flask - warm to the touch. There's some sort of liquid inside! No obvious smell or anything.
Rebecca: I'm sure it'll come in useful for something.

"
"

Adam: This ceramic flask's still warm to the touch.
Rebecca: Maybe we can use it for something then.

"

As discussed in this article, some of the elements in Raysiel's Tower seem to mirror events or objects that we've either already seen on our journey or will still be encountering later on. This Fire Room that contains the flask, along with the fire glyph, recalls the design of the Temple of the Morning Star, that we have passed through prior to our discovery of Raquia.
References
Edit
Ad blocker interference detected!
Wikia is a free-to-use site that makes money from advertising. We have a modified experience for viewers using ad blockers

Wikia is not accessible if you've made further modifications. Remove the custom ad blocker rule(s) and the page will load as expected.