Old Knight's Helm

Location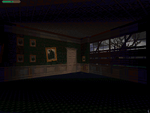 The Old Knight's Helm is an object found in the Gallery that can be accessed through the double-winged door in the Vestibule, on the opposite side of the main entrance of the Mansion. It's placed on the floor in front of a worn-down map of the world, referred to as Realm of Heled.
Rebecca has difficulties classifying the helm's period, stating that it's very stylized. Clicking the item inside the inventory triggers a cutscene, in which we learn more about the decline of the noble Falshire Knights and Aelf:


Fall of Angels
"

Adam: This thing's strange. I can't believe what I saw when I put it on.
Rebecca: Some things are connected to the past in such a way that they act rather like a camera - a magical eye. The power in the helm is faint, yet the images are so clear.

"
Ad blocker interference detected!
Wikia is a free-to-use site that makes money from advertising. We have a modified experience for viewers using ad blockers

Wikia is not accessible if you've made further modifications. Remove the custom ad blocker rule(s) and the page will load as expected.