Queen of Hearts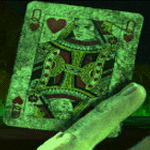 The Queen of Hearts is a playing card which during the final gathering with Florentine, Gaul and Hawk in the Chamber of the Soulstone, as seen in

Endgame - Sorceror cutscene. In the context of the game, it represents Rebecca, alluding to the faint romantic bond that has manifested itself between her and Adam during their journey. Answering Adam's concerned question as to what happened to her, Gaul mockingly drops the Queen of Hearts playing card into the abyss that surrounds the green dome, as an implication of her death.
Playing Cards, where we have a look at the other playing cards appearing in the game.
References
Edit
Ad blocker interference detected!
Wikia is a free-to-use site that makes money from advertising. We have a modified experience for viewers using ad blockers

Wikia is not accessible if you've made further modifications. Remove the custom ad blocker rule(s) and the page will load as expected.