Safety Rug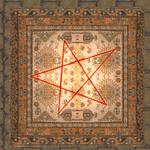 Location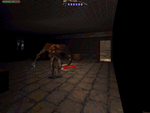 The Safety Rug is an object found in the basement area of the Mansion preceding the Caverns, specifically in close vicinity of the demon zone-marker next to the small Chapel. The rug's arcane weave incorporates a safety device, apparently symbolized by the red pentagram in the centre, hence standing on it protects us from the imminent attack of the axe-wielding

Lopers, presaged by the pair of demolished doors on the floor.
"

Adam: There's some sort of arcane design woven into this.
Rebecca: Very odd.
Adam: What do you mean?
Rebecca: I've not seen one of these for a while. The weave incorporates a safety device.
Adam: So you mean you stand in it and it'll protect you from something. Any ideas from what?
Rebecca: They're not coming in. We're safe for the moment.
Adam: That might sound good to you but we can't stay here forever.

"
References
Edit
Ad blocker interference detected!
Wikia is a free-to-use site that makes money from advertising. We have a modified experience for viewers using ad blockers

Wikia is not accessible if you've made further modifications. Remove the custom ad blocker rule(s) and the page will load as expected.