Sketch of Eternity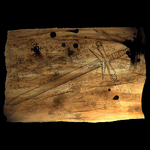 Location
The Sketch of Eternity is a piece of parchment that can be found in the study of Florentine's ancient cottage. It contains an illustration of the sword Eternity, though the pommel has been smudged with ink, apparently concealing the Shrive which is part of the sword. Additionally, the parchment is filled with various astronomical drawings. In the upper left corner, we spot the word "Machon," which, according to Jewish Mysticism, is the name of the fifth level of Heaven.
"

Adam: Sketch of a sword. Like no sword I've ever seen.
Rebecca: What's that smudge towards the top of the pommel?

"
Ad blocker interference detected!
Wikia is a free-to-use site that makes money from advertising. We have a modified experience for viewers using ad blockers

Wikia is not accessible if you've made further modifications. Remove the custom ad blocker rule(s) and the page will load as expected.