Tiara
Location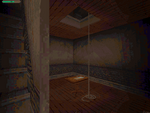 The Tiara is a finely worked coronet with various gems that can be found on a small table inside the Belfry of St. Michael's. It has to be placed on the head of the

Madonna statuette inside the Lady Chapel of the church (along with a green feather), in order to open the secret stash behind the mural, containing Aelf's Helm, the passport to enter the Realm of Divinity, Arqua.
"

Adam: This is delicate.
Rebecca: Be careful with it.

"
References
Edit
Ad blocker interference detected!
Wikia is a free-to-use site that makes money from advertising. We have a modified experience for viewers using ad blockers

Wikia is not accessible if you've made further modifications. Remove the custom ad blocker rule(s) and the page will load as expected.